Legacy Flight Training Launches Online Recurrent PA-46 Ground Training
Legacy Flight Training Launches Online Recurrent PA-46 Ground Training
Posted Apr 6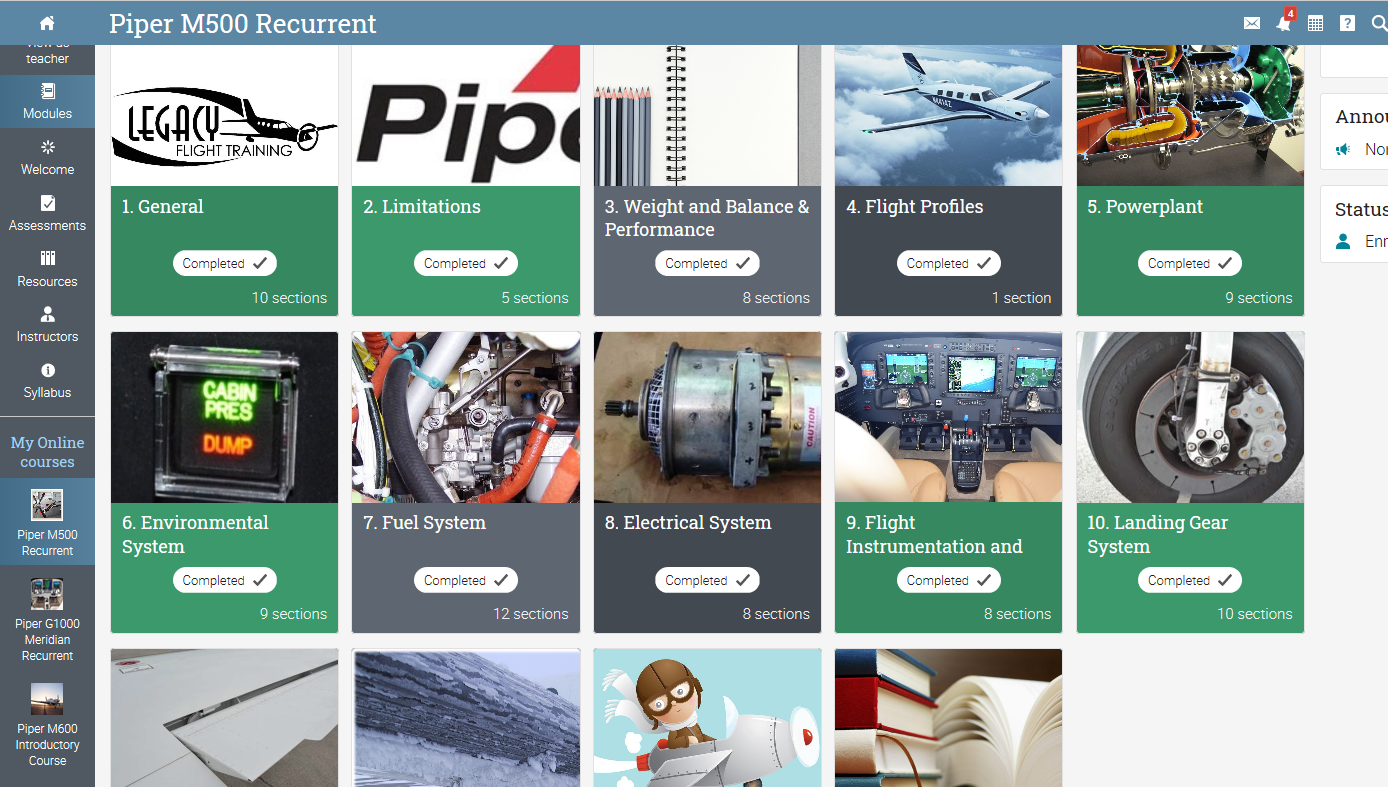 LEGACY FLIGHT TRAINING LAUNCHES ONLINE RECURRENT PA-46 GROUND TRAINING
April 6, 2020 - Vero Beach, Fla.
Legacy Flight Training announces today that turbine powered PA-46 recurrent training will also come with online ground school. Students registered for their turbine PA-46 training (M600, M500, G1000 and Avidyne Meridian) will also receive a link for interactive ground training that they can complete before their in-aircraft or simulator training. The coursework is continually monitored by a Legacy Flight Training instructor, and the student and instructor may additionally interact via web-chat as necessary. Online courses feature the approved course materials used by Legacy Flight Training, the exclusive Authorized Piper Training Provider for the M600. Materials are specific to the aircraft for which the student is receiving instruction, and is updated regularly with the most current information from the manufacturer. Courses include systems review, normal and emergency procedures, best practices for high altitude and inclement weather flying, risk assessment, and more. "This modern, standardized, and comprehensive approach to PA-46 training, will allow our customers to receive the high-quality training they've come to expect from Legacy Flight Training, in the comfort of their own home on their computer or iOS device via the Legacy Flight Training app," said Bill Inglis, President and Owner at Legacy Flight Training. "Insurance companies are delighted that their customers have this new option to conduct their ground training, and they are looking forward to the
addition of the piston-powered aircraft in the PA-46 family."

There is no additional cost for this portion of the recurrent training, and it will be provided to a customer registering and scheduling recurrent training at any of the company's three locations, Vero
Beach, Florida; Scottsdale, Arizona; Sun Valley, Idaho. Ground training will also be available in-person, should customers prefer classroom training. Upon successful completion of the online ground school,
pilots will be required to complete the flight or simulator portion of the curriculum in-person with Legacy Flight Training prior to receiving a Certificate of Completion.

Legacy Flight Training is an Authorized Piper Training Provider for the entire Piper family of products and the EXCLUSIVE Authorized Piper Training Provider for the M600. Training is provided by experienced staff with PA-46 specific experience and knowledge at facilities in Vero Beach, Florida (KVRB), Scottsdale, Arizona (KSDL), and Sun Valley, Idaho (KSUN). Those interested in training with Legacy Flight Training should visit LegacyFlightTraining.com.